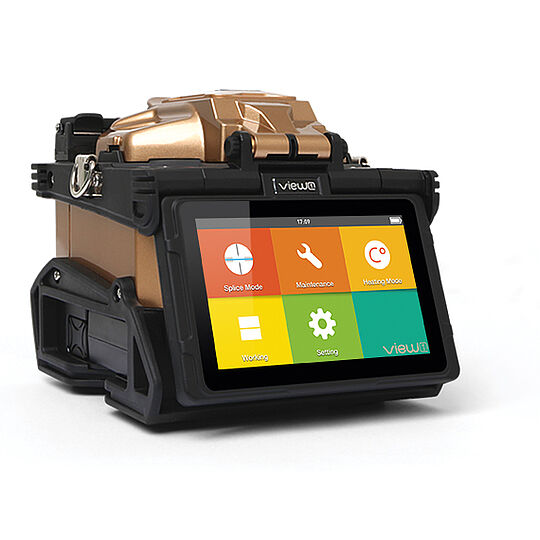 Remarkable performance in compact size
VIEW1
VIEW1, a portable clad-alignment splicer with innovative performance in compact design, is the most dependable fusion splicer in the market. Equipped with user-friendly GUI and high-resolution color LCD touch screen.
You can check the optical fiber with clear images and double-tap screen to enlarge / reduce the screen up to 520X. VIEW 1 gives you the most reliable working environment.
Connect to the world with a tip of finger. Precise and sophisticated operation with a single touch.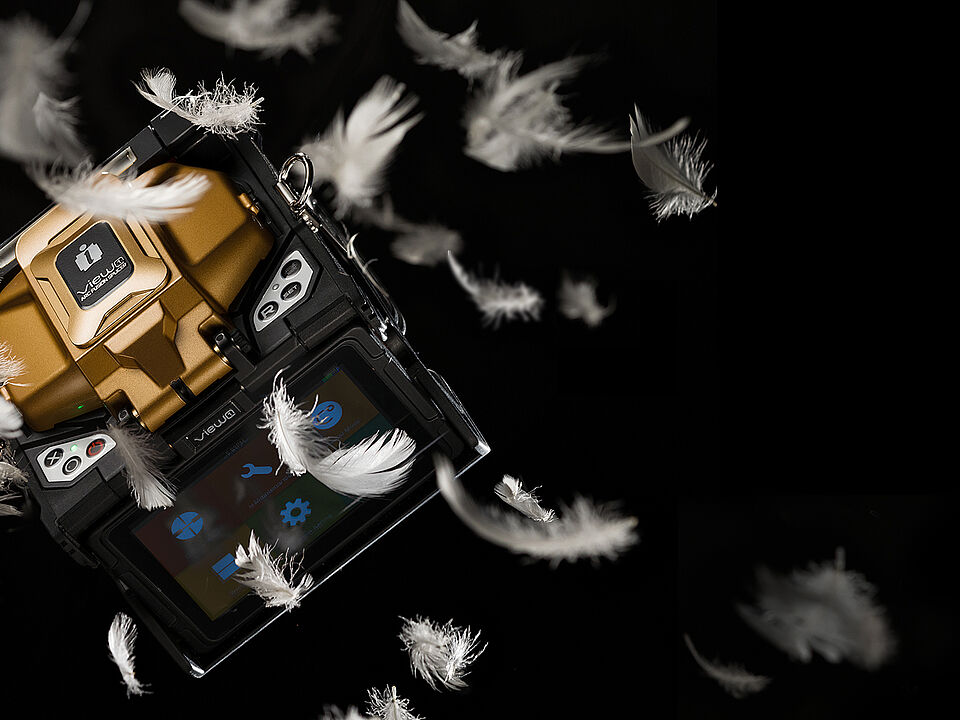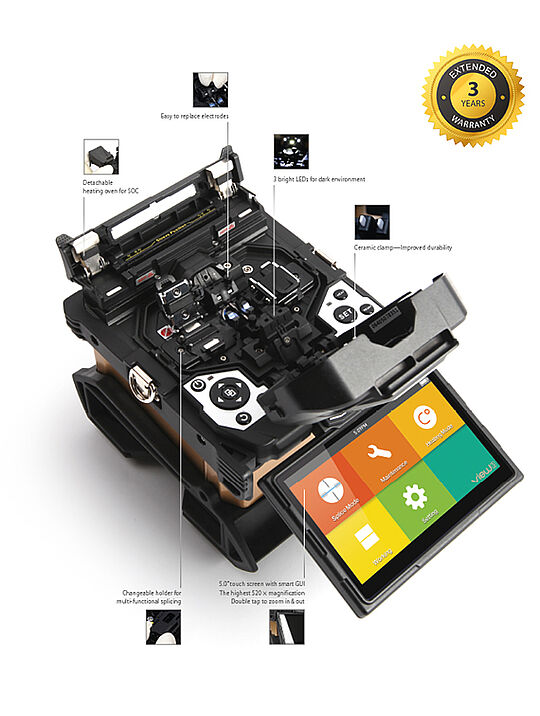 Remarkable performance in compact size
VIEW1, Light and Perfect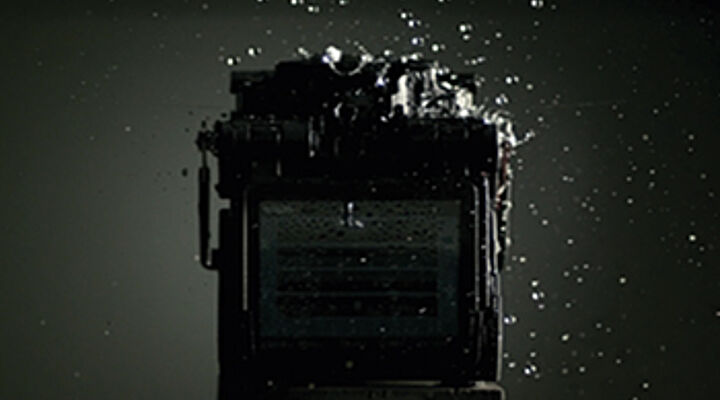 Waterproof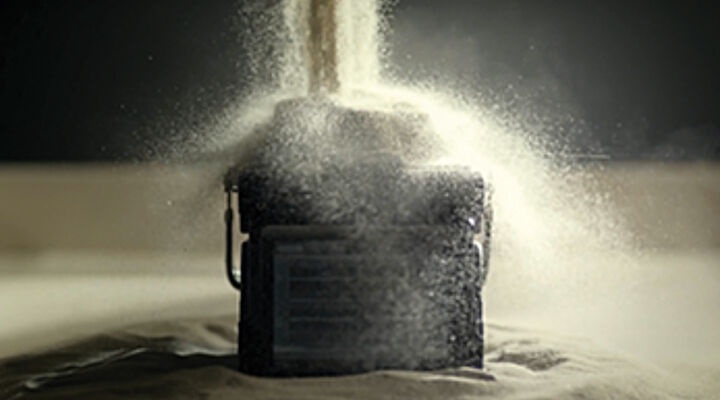 Protected from dust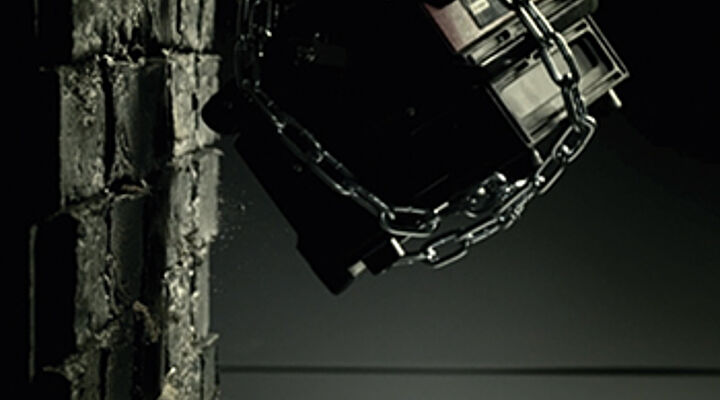 Shockproof
Display & Interface
High Visibility Optimized for Working Environment
| | |
| --- | --- |
| | 4.3" High resolution Touch screen |
| | Max. 520X magnification |
| | User-friendly Smart GUI |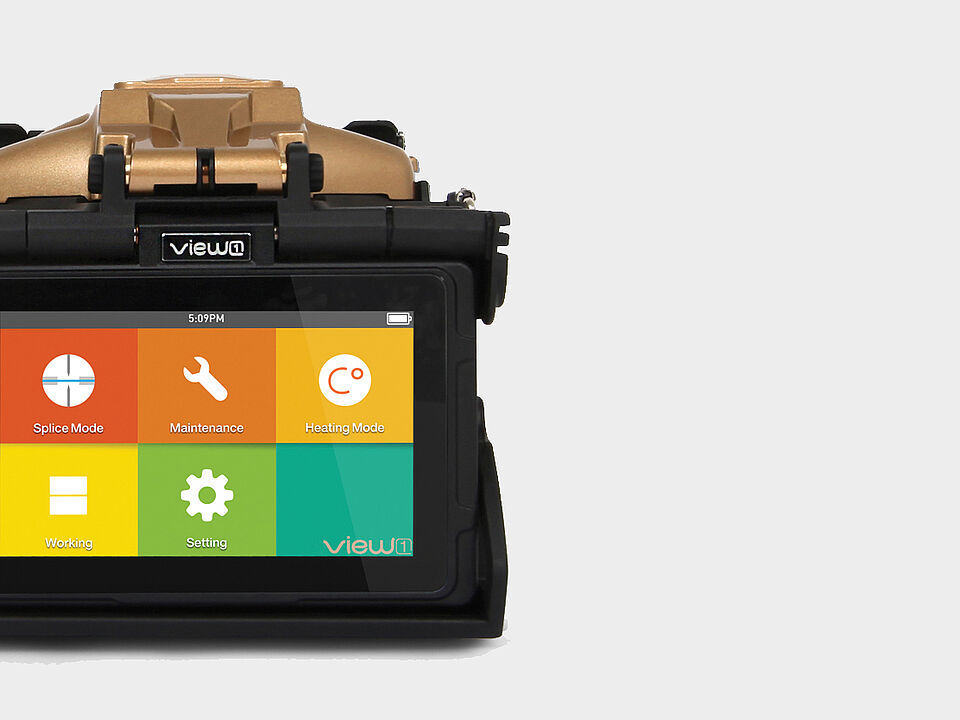 VIEW1
Specifications

Dimension

137H x 132W x 126D mm (including rubber bumper)

---

Weight

1.45 KG (without battery) /
1.70 KG (with battery)

---

Display

Touch Screen / Button

---

Number of Fibres

Single

---

Splicing Time

Quick Mode: 7 sec
Auto Mode: 9 sec

---

Heating Time

Typical heating time

---

Fiber view & magnification

520x Magnification

---

Application Fibres

---

Lighting

3 White LEDs

---
Result Storage
Max. 10,000 splice results (excel + image)
Compatible Fiber/Cable
0.25~3.0mm/Indoor Cable(with VFH-40)
Cleaved Length
Diameter: 0.125~1mm
Cleave Length: 8~16mm
Cladding Diameter
80~150㎛
Splicing Mode
Maximal 120 modes
Heating Mode
Maximal 33 modes
Typical Splice Loss
SM: 0.03dB / MM: 0.02dB / DS: 0.05dB /
NZDS: 0.05dB / G.657: 0.03dB (ITU-T Standard)
Estimated Splice Loss
Available upon request.
Heating Sleeve Length
20~60mm
Operating Condition
Operating Altitude: 0~5000m above sea
level, 0.95% relative humidity, -10~-50°C,
Max Wind 15m/s
Storage Condition
0~95% relative humidity, -40~80°C
Power Supply
AC Input 100-240V, DC Input 9-14V
Storage Condition
0~95% relative humidity, -40~80°C
Power Supply
AC Input 100-240V, DC Input 9-14V
No. of Splice/Heating with Battery
3800mAh Battery Capacity,
Typical 140 times (Splice+Heat)
Electrode Life
5500 arcs, can be extended
by using an electrode grinder
Amazingly compact, as you dreamed Imagine the lightness of View 1.
Package