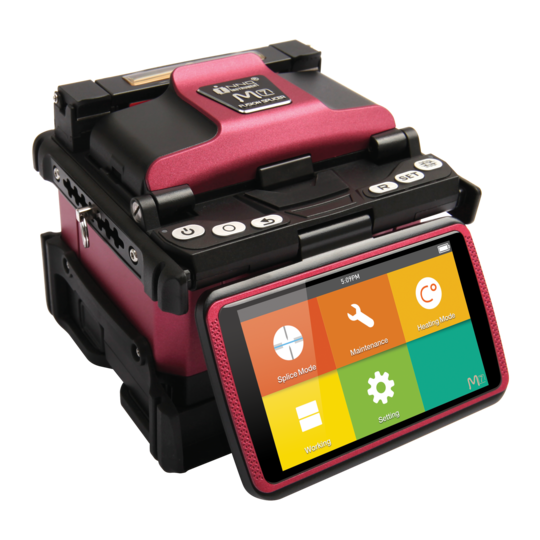 Light and Perfect Structure
M7
M7, an active clad-alignment splicer with ultra-portable design, is the most efficient fusion splicer in the market. This small but powerful fusion splicer inherits many remarkable functionalities from sister products. M7's 4.3 inch high-resolution color LCD touch screen with user-friendly intuitive GUI(Graphic User Interface) offers large and clear fiber images to users. By double-tapping the screen, user can Zoom In & Out the image to the outstanding magnification of 400x.
Moreover, the adjustable strap hanger make users to customize M7 for their working condition. M7 is genuinely world's most efficient hand-held fusion splicer in the telecommunications industry.
M7, Ultra-Portably Designed Active V-Groove Fusion Splicer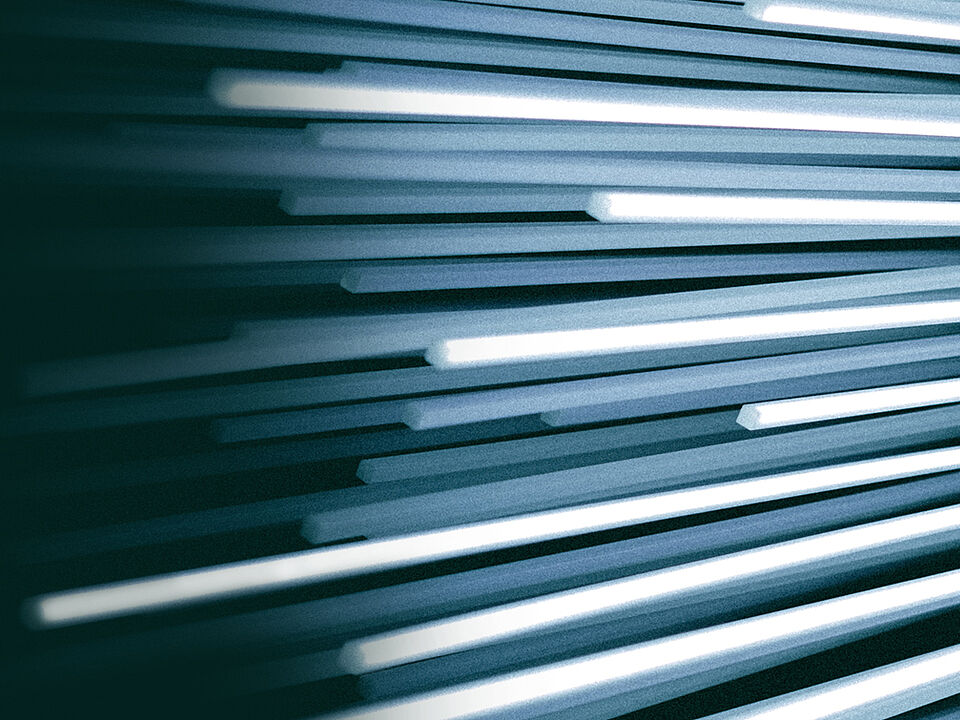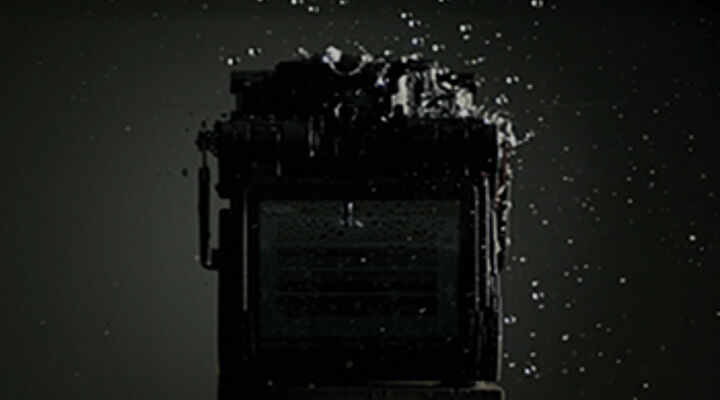 Waterproof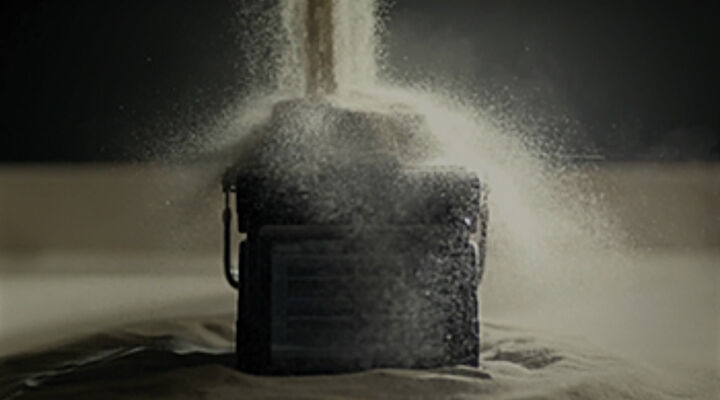 Protected from Dust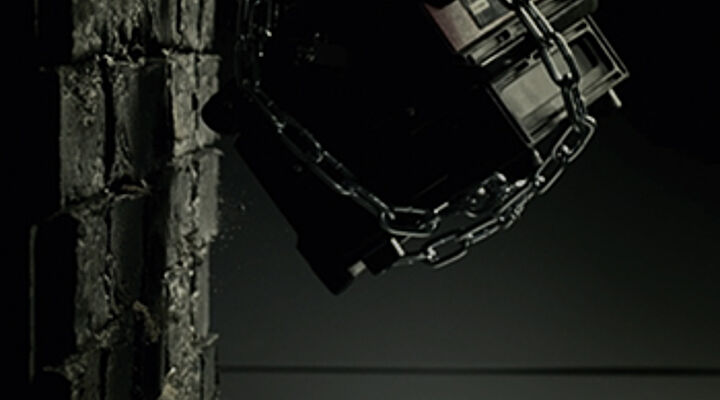 Shockproof
Display & Interface High Visibility Optimized for Working Environment
Display & Interface
| | |
| --- | --- |
| | 4.3" High resolution Touch screen |
| | Max. 400X magnification |
| | User-friendly Smart GUI |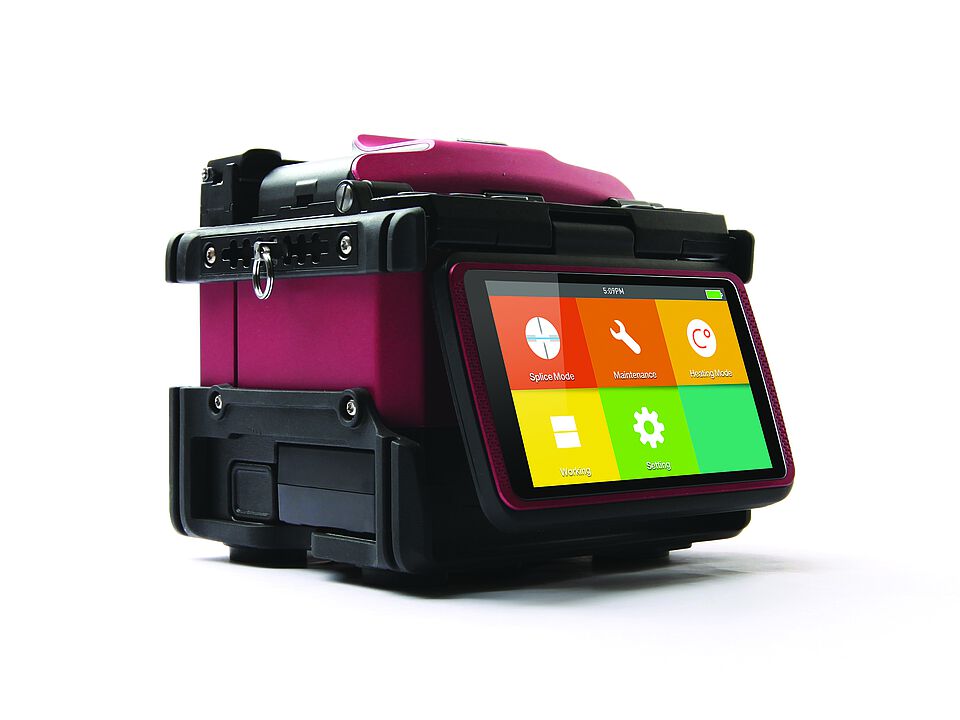 M7
Specifications

Dimension

124H x 144W x 131D mm (including rubber bumper)

---

Weight

1.31 KG (without battery) /
1.56 KG (with battery)

---

Display

Touch Screen / Button

---

Number of Fibres

Single

---

Splicing Time

Fast Mode: 7 sec
SM Mode: 9 sec

---

Heating Time

Fast Mode: 15 sec

---

Fiber View & Magnification

400x Magnification

---

Application Fibres

SM/MM/DS/NZDS

---

Lighting

2 White LEDs



---
RESULT STORAGE
Max. 10,000 splice results (excel + image)
COMPATIBLE FIBER CABLE
0.25~3.0mm/Indoor Cable
CLADDING DIAMETER
80~150㎛
SPLICING MODE
MAX 100 modes, Preset 9 modes
HEATING MODE
MAX 30 modes, Preset 4 modes
TYPICAL SPLICE LOSS
SM:0.03dB/MM:0.01dB/DS:0.05dB/NZDS:0.04dB/
G.657:0.03dB(ITU-T Standard)
ESTIMATED SPLICE LOSS
Available upon request.
HEATING SLEEVE LENGTH
20~60mm
OPERATING CONDITION
Operating Altitude: 0~5000m above sea level, 0.95% relative humidity, -10~-50°C, Max Wind 15m/s
STORAGE CONDITION
0~95% relative humidity, -40~80°C
POWER SUPPLY
AC Input 100-240V, DC Input 9-14V
NO. OF SPLICE /HEATING WITH BATTERY
3000mAh Battery Capacity, Typical 110 times (Splice+Heat)
ELECTRODE LIFE
5500 arcs, can be extended by using an electrode grinde
Amazingly Compact, as You Dreamed Imagine the Lightness of M7
M7